Welkom!
Mijn naam is Nathalie Goedegebuure, geboren en getogen in een dorpje gelegen tussen Utrecht en Amsterdam. Al van jongs af aan creatief bezig, van het maken van poppenjurkjes tot het maken van tijdschriften en het schrijven van fantasieverhalen of zelfs het bouwen van een boomhut. Zolang het een creatieve activiteit was had het mijn volle aandacht, dus het was geen verrassing dat ik na mijn middelbare school naar het Grafisch lyceum Amsterdam wilde en daarna nog modeontwerpen heb gestudeerd aan de Hogeschool voor de Kunsten Utrecht. Er is geen twijfel over dat creëren mijn passie is!
De naam 'Souz' een bijnaam voor mij bedacht tijdens mijn tienerjaren, heb ik altijd gezien als een naam waar ik ooit iets mee zou creëren. Door de jaren heen had ik veel ideeën. Zo begon ik tijdens mijn eerste zomer in Barcelona (toen ik daar stage liep bij Gori de Palma in 2010) met het ontwerpen en vervaardigen van Bikini's waarmee ik later in de zomer van 2012 mijn eerste Souz Beachwear collectie showde op het wetdeck van het W hotel Barcelona tijdens een groot evenement. Hoewel ik nog steeds bikini's maak en hier tegenwoordig ook (zomer)cursussen in geef bij De Steek Amsterdam, blijft de creativiteit altijd stromen en zo ook altijd nieuwe ideeën. Souz Beachwear werd later Souz Atelier en daarmee ontstond er ook een nieuwe focus. Upcycling speelt altijd al een grote rol en was het niet meer dan logisch om daar iets mee te doen. Vanaf 2018 ben ik begonnen met het geven van verschillende upcycle workshops en zo is het idee ontstaan om een upcycle patronen collectie voor beginners te ontwikkelen. Deze patronen komen met een duidelijke beschrijving waar in je stap voor stap uitleg krijgt. Daar komen ook nog verschillende DIY pakketten bij zodat je meteen aan de slag kunt! Met Souz Atelier wil ik inspireren om je eigen creativiteit te ontwikkelen door met (vergeten) stoffen&materialen te experimenteren.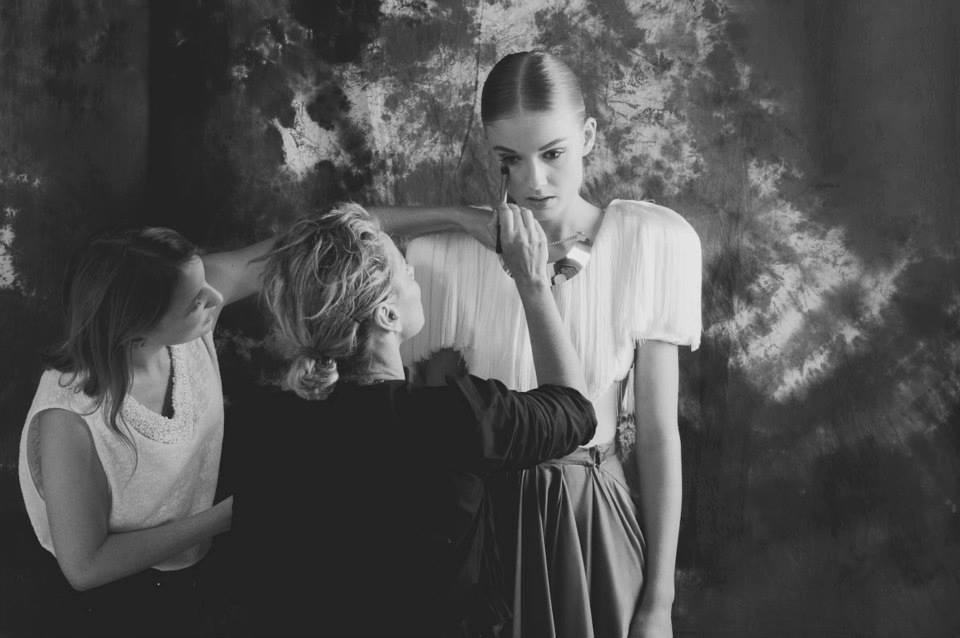 Behind the scenes with Nathalie, Agostina & Yanick. Photograph by Michael Scorr and make-up by Agostina Benda. Location: Unicorn studio in Barcelona. Model Yanick Hollander, wearing an outfit of my graduation collection.
The collections and pieces for SOUZ are made by Nathalie Goedegebuure.
For any inquiries feel free to send an email to: info@souz.nl
English:
Welcome!
My name is Nathalie Goedegebuure, born and raised in a small village located right in between the cities Utrecht and Amsterdam, the Netherlands. Discovered the art of creating already at a young age, making anything from a dress for my doll to magazines and writing fantasy stories and even building a treehouse. As long as it was a creative activity it had my full attention, so it is not surprising that after high school I studied graphic design followed by fashion design at the art academy. There is no doubt that creating is my passion.
I've always wanted to use the name "Souz" for something I would create one day. It took some time to figure out what and over the years I had many ideas for it. During my first summer in Barcelona (while I did my internship at Gori de Palma 2010) I started making bikinis for the first time and later showcased a small Souz beachwear collection in the W hotel in Barcelona the summer of 2012. Although I'll continue to make bikinis and nowadays hosting a (summer)course at De Steek Amsterdam, being a creative person, the ideas for new projects always keep coming. Souz Beachwear became Souz Atelier and with that a new focus was
In the Fall of '15 I've become an ambassador for the "Kledingbibliotheek" (which means clothing library, a library where you rent clothes). The founders got me inspired to upcycle my wardrobe, something I used to do when I was a teenager but kind of forgot about over the years. Because of this (and that most of us own way too many clothes) the idea was born to start SOUZ Atelier an online platform that offers upcycle and DIY projects. A way to experiment, create and hopefully inspire others!
X Nathalie